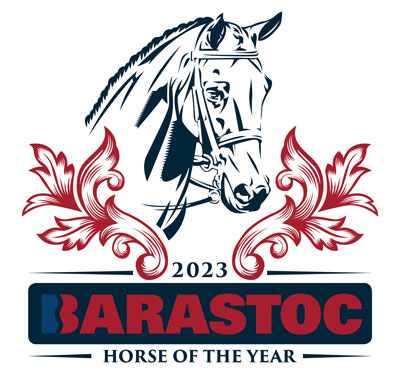 10 – 12 FEBRUARY 2023
WERRIBEE PARK NATIONAL EQUESTRIAN CENTRE
EVENT INFORMATION
Program Advertising
BARASTOC HORSE OF THE YEAR - 54 YEARS IN PROGRAM ADVERTISING
The organising team of the 2023 Barastoc Horse or the Year invites you to advertise in the Official Souvenir Program.  The program features all class, competitor and sponsor information.     It is a great memento of this iconic event.
Professionally printed and produced, 1000 copies of the program will be available to competitors and spectators at the event.   A limited number of pages are available to advertisers.
ARTWORK SPECIFICATIONS
The program is standard A4 Page size 210mm x 275mm
Full page advertisement – 210mm wide x 297mm deep
Half page advertisement – 185mm wide x 135mm deep
All advertisements are required to be supplied as high resolution PDF's
Advertising rates are based on print ready artwork, required by 20 January 2023
(Full page advertisements are required to be supplied with 3mm bleed and crop marks)
BOOKING INFORMATION
Bookings are required by 31st December 2022. Full payment must accompany the booking.
ENQUIRIES & BOOKING
PLEASE SEND BOOKING FORM WITH PAYMENT DETAILS TO:
Email: susan_mckay@bigpond.com
M. 0418 397 443

Proud sponsors of Barastoc Horse of the Year for over 50 years.
EVENT CONTACTS

EVENT DIRECTOR:
Peter Heagney